Supporting through multiple approaches- Action to fight COVID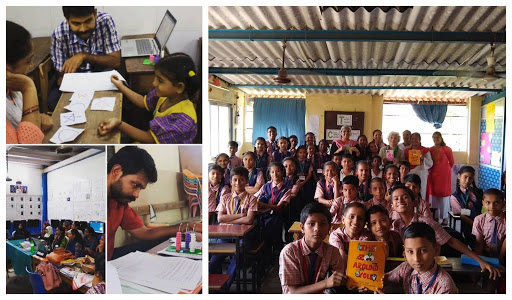 As the world struggles to find a balance amid the lockdown, words fall short to describe the work done by our EduMentees as each one of them take steps to make a difference in the lives of people they work with. One such organization is LanternEdu Sports which works in a slum region of Mumbai. Having created a positive impact through his Teach for India fellowship journey, Subhankar Paul set out and started LanternEdu Sports in a spirit to multiply the impact in the Malwani community.
Mumbai which is a metropolitan city usually known for its fast-paced lifestyle, local trains, monuments, and street food, is also home to some of the biggest slums in the nation. One such cluster of slums located in the Malad regions is inhabited by the Malwani community. Unlike the Mumbai lifestyle known to us, the children in this region go through a lot of problems – community violence, absence of role models, disinterest towards education, lack of proper infrastructure, and quality education.
One child, one teacher, one book, one pen can change the world– Malala Yousufzai
LanternEdu Sports works towards addressing all these issues by working with the stakeholders in schools of Malwani community. The organization does this via two programs – The Right Pitch project and Whole School Transformation project. The Right pitch project is a life-skill cum sports development program for children from underprivileged backgrounds while the whole school transformation project includes working towards holistic development of school. It also gives teachers a fellowship experience where they do an action research project every quarter. Through this project, they set goals and collaborate to problem solve and come up with strategies to reach their goal. The organization also conducts training workshops and works with various stakeholders to understand their needs. There has been a lot of positive feedback from the teachers who went through the fellowships program. They also claim to have really enjoyed the journey and demonstrate the same by implementing their learning to their daily work. The impact of the work done by the organisation is felt by each and every stakeholder as LanternEdu builds a culture of joy and celebration in the schools they work with.
As the end of the year celebrations were approaching, the situation became tense with announcement of the sudden lockdown. Not only did the children lose out on learning but also the teachers were at a risk of losing their jobs. LanternEdu stepped in to address all these issues by coming up with innovative ideas and reimagining the system of education.
Stakeholder Engagement
School Leaders of Low-income private schools are faced with challenges of sustaining their schools and being able to pay their teachers, leading to a loss of jobs for many. LanternEdu Sports is partnering with one of our other partner organization, Barefoot Edu Foundation,to explore ways to source reliable funding from within the ecosystem to help low-income schools survive these challenging and unprecedented times. They are also training their teacher partners to prepare worksheets and video lessons in order to empower them with digital technology skills.
As the Malwani community is inhabited by daily wage workers majorly, it was also important to look at the daily sustenance of the people here. So Lantern also launched a crowdfunding campaign to raise funds in order to provide basic ration kits to the families. Having currently served over 2000+ families in the community they plan to serve 1000 more with the funds they raised.
Summer of 2020 for grade 9th to 12th
With board exams around the corner, support to ensure continuity in learning matters most to higher grades students. LanternEdu started a program called 'Summer of 2020' to ensure continuous learning for students in 9th to 12th grade coming from an underprivileged background. They do this by creating 3 different teams – content creation, WhatsApp groups for student interaction and impact analysis team who conduct assessment through google forms! A simple yet a very innovative and unique approach! Each group has a designated set of volunteers to work for the required purpose. They work in a closed-loop system with each team providing constant feedback to the other team based on student performance. The responses towards this initiative have been great so far with the children and parents wholeheartedly welcoming the initiative. They have also been highly supportive in terms of problem-solving any challenges that come their way.
You don't need superpowers to be someone's hero!
Each member of LanternEdu sports is making their vision come alive through constant engagement with stakeholders. Shubhankar Paul, Founder of the organizations says, "Be grateful to the privilege you have at the same time try to be helpful to those in need".
We at EduMentum appreciate the work done by Subhankar and his entire team and wish them all the success in bringing about the change they wish to see in the Malwani community.