Learning during the pandemic: Leveraging technology to continue education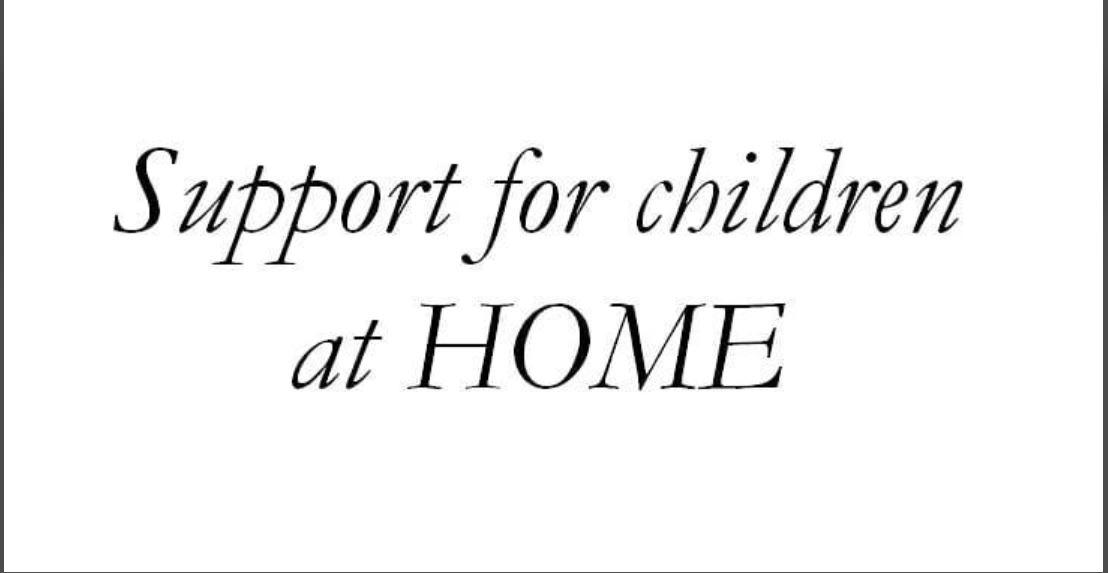 The pandemic has brought with itself myriad challenges in all sectors. Like other sectors, it has confronted the education system with an unusual set of difficulties. With the advent of the novel coronavirus, risks posed by close contact in schools and subsequently the Central Government imposed a national lockdown in March 2020, closing all the schools. To understand the gravity of the problem, it suffices to say that education has been disrupted for over five months, impacting roughly 250 million students in India.
To overcome the new challenges, schools have adopted alternate modes of learning that do not pose risks of infection and do not violate Government orders. In this regard, the use of technology has emerged to be a saviour. This pandemic has the potential to undo all the efforts put in by the civil society organizations for decades to provide equitable access to education to all, despite their economic, geo-political and social situations. It is, therefore, imperative to intervene and reimagine learning tools and methods by the stakeholders.
The members of different cohorts of EduMentum are devising new learning tools and ways of education delivery. Wherever possible, our change leaders have identified that technology serves as the most vital medium to sustain education across socio-economic classes. They have adopted various approaches and methods to not only include students, teachers but also their families and communities. Our change leaders have recognized the growing need for community participation to evolve the educational ecosystem in specific regions. This time, thus, presents as an opportunity to involve the community to be a part of the education of the children, and also bridge the education gap to the extent possible.
This articles contains the tech-based initiatives led by our partner organizations. For offline solutions, please read this article.
Some of the online interventions adopted by our cohort members are mentioned below:
1. Summer of 2020 by Lantern Edusports Foundation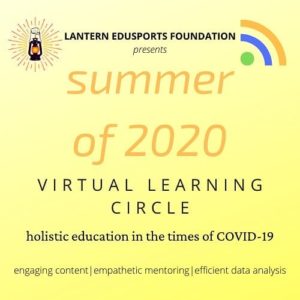 With an aim to continue education, by digital means, for students from low-income private schools and government schools through engaging content, empathetic mentoring and efficient data analysis, Lantern Edusports devised the initiative 'Summer of 2020.' To put it in motion, a content creation team has been formed who curate videos, make learning plans and share them with students of grades 9, 10 and 12. The content includes both, academic subject and non-academic domains like art, sports, career awareness, menstrual hygiene management, etc. Due emphasis has been given on impact assessment as well.
2. Training of Shiksha Saheli by Karunodaya Foundation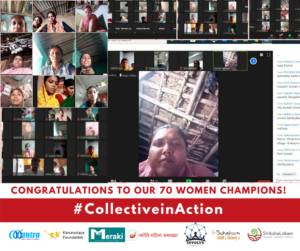 Shiksha Saheli Project is a collaborative initiative of the education collective in Bihar. These Shiksha Sahelis are community women who are teaching students in their community, majorly primary grade kids. Around 60 Sahelis are selected for the two-year fellowship program. The selected 'Shiksha Sahelis' underwent a series of virtual training sessions that introduced them to the program and different ways to engage students virtually and at community centers. This whole program is designed keeping in mind the requirements of the children and the community.
3. Read Aloud stories by Shiksharth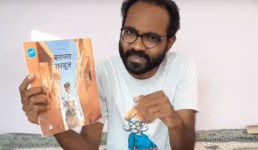 As the country went into the lockdown, Shiksharth started a new initiative called "Read Aloud," where the change leaders and volunteers read aloud a story everyday so these stories could reach children who have limited access to resources in physical form or means of listening to good stories, such as libraries or physical copies of story books. In each read aloud session, the storyteller reads out a story from an illustrated children's book in English and/or Hindi, which gets recorded and subsequently uploaded on Youtube, Facebook and other channels where the children or their parents can access.
4. Rung Rungs Sel by rZamba
Due to the closure of schools as a prevention measure from the COVID-19, many children in remote villages of Kargil and Leh were left with little to no access to any form of learning or education. Many organizations adopted collaborative means to make education reach these children. Rung-Rungs Sel is one such collective initiative by rZamba and Storytime, where anyone can submit a storytelling video using illustrated books, drawings, animations, theatrics, etc. These story videos were then shared with the children through facebook, whatsapp and other online modes.
5. E-Pathan by Varitra Foundation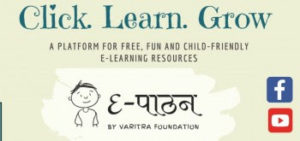 In an endeavour to make e-learning accessible to all, especially to the students in rural India, Varitra Foundation launched E-Pathan initiative. Learning that the parents of their students were familiar with facebook, they created E-Pathan on facebook where they uploaded learning videos from their volunteers and other organizations consisting of several learning resources, such as storytelling sessions, rhymes in hindi and English, language and math activities, teaching and learning materials for the teachers and craft activities. These resources are aimed to ensure continuity in children's education, and also help the teachers, parents and volunteers in these times of remote learning.
6. Online Training of Teachers by Vidhya Vidhai
After a thorough context analysis for a month into the lockdown, Vidhya Vidhai identified the areas where the teachers and schools needed support to acclimatize with digital education. To assist the school teachers in Tamil Nadu, several webinar series were organized and many self-learning videos were shared to facilitate the teachers to conduct online classes. These webinars and videos mainly dealt with the various technological features that can be used as teaching aids, such as online translation, zoom platform, google meet, how to involve parents, etc. They also conduct monthly leadership meets with partner schools for impact assessment.
7. Online Training of teachers by Samait Shala
Online teaching is as new for the teachers as it is for the children. To equip the teachers with necessary skills to conduct effective and efficient classes through digital means, Samait Shala is hosting several webinars and online training for the teachers and stakeholders. Through these online meets, they aim to orient the teachers, parents and schools on how to develop modules and make certain the students grasp the lessons taught without distraction. During the sessions, they also discuss ways to overcome the different challenges associated with online classes.
8. Enrollment Helpline by Sanjhi Sikhiya
The lockdown has not just affected the learning, but also the efforts of schools and CSOs to increase enrollment of students in government schools. However, seeing the crisis as an opportunity to collaborate and find novel solutions, 'Enrollment Helpline' was set up by the Punjab Collective to streamline the process of admitting the students in schools. Helplines have been set up both at State and District levels, which are being widely disseminated in the communities. This is in addition to the work carried on on the ground to understand the challenges and propose solutions to facilitate enrollment drive and ensure every child gets equitable educational opportunities.
With the continuation of the disruption in education and schools being closed, our change leaders and other stakeholders in the ecosystem will think newer models and ways to make the best use of technology to deliver education and learning opportunities. The goal here is to ensure continuity in education!
Written by Ms. Deboleena Dutta, Team EduMentu