Building Teacher Capacities: An approach to Systemic Education Transformation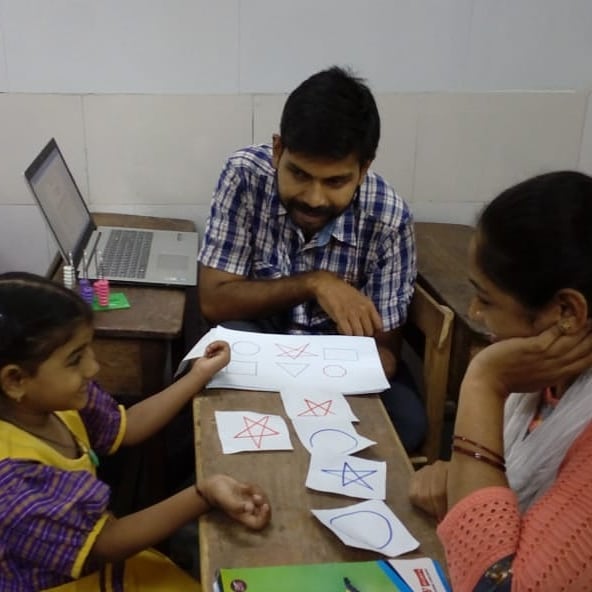 Improving the education system in India and ensuring equitable education for all is a dream for many. But due to the multifaceted nature of the sector, comprising problems at multiple levels, there cannot be a "one size fits all" solution to it. Since there is no single straitjacket approach, every organization, social entrepreneur and policy maker thinks of myriad ways to approach the issues and consequently, solve them.
Every effort contributes towards the shared dream of improved education for every child in the country. With this in mind, change leaders analyse the needs and adopt interventionist approaches and methods targeting specific factors in education. It needs to be borne in mind that there are multiple stakeholders in the ecosystem, and one of the most important stakeholder is a teacher.
When we think about education, our mind automatically concocts a picture of a 'guru' or a 'teacher' explaining a concept to a bunch of curious students – because of the indispensable role of a teacher in the sector.
Recognizing that a teacher's influence on a child and his/her education is highly pivotal, social entrepreneurs and civil society organizations have increasingly started focusing on the capacity building of the existing and pre-service teachers.
There is, thus, a perpetual need to actively engage with teachers and understand their contexts. Field data from ASER national assessments point out that in most cases, the teachers belong to rural areas or low-income urban groups, who themselves grew up battling poverty, inability to access learning opportunities and a dearth of opportunities. Therefore, there is consistently a dismal learning level of children across all age groups. The report states that only half (50.3%) of all students in Class V can read texts meant for Class II students. This interdependence between the teacher capacities and learning outcomes clearly reinforces the need for interventions.
Such interventions are adopted by organizations across the four Cohorts of EduMentum, who are focusing on transforming education by building teachers' capabilities using different models and techniques.
This article highlights some of these interventions:
Kanavu in Cuddalore, Tamil Nadu (Cohort'21)
Working with 5 Affordable Private Schools & allied communities in rural Tamil Nadu, Kanavu aims to improve education by nurturing leadership in disadvantaged schools and communities. To understand the extent of the need for teacher training interventions, Kanavu conducted a Teacher Eligibility Test (TET) in 2019-20 – one of the many indicators pointing to the need to work with teachers. Shockingly, only 2% of the existing teachers could pass the test. It also observed the high literacy and knowledge gaps in teachers in the district.
Having felt the need, Kanavu works with various stakeholders to ensure smooth and effective delivery of education to children. It, therefore, runs multiple programmes to work with the stakeholder, especially teachers. The four pillars of Kanavu's teacher development framework are –
a) Instructional excellence
b) Content expertise
c) Reflective Practice
d) Collaboration & leveraging ecosystem
Accordingly, Kanavu has adopted the following four different programmes that work with school teachers in various capacities:
A 'dream-act-grow-share' reflective framework that nurtures leadership. This is done through observation debrief cycles which consciously builds reflective practice
An eco-system that enables teacher collaboration across schools in the cluster (a system of grouping schools within same geographical locations with the aim of promoting or improving their teaching skills). This is done through regular teacher conferences, teacher circles such as grade level circles, school team circles, peer observations and feedback
Teacher Training Camps or 'Kanavu Camps' which creates an environment to build leadership, pedagogical skills and conceptual understanding of content and personal leadership in teachers.
They also conduct a Kanavu camp, which is a collective space for different stakeholders from the school eco-system (teachers, school leads, non-teaching staff, parents) and volunteers to come together to mutually learn, share and reflect.
Thus, a typical calendar year for a school teacher working with Kanavu and participates in its various teacher capacity building looks as follows:
It is worth highlighting here that due to COVID-19, subsequent closure of schools and switch to online mode of education, Kanavu is consistently helping the eager, mostly first time technology-user teachers transition into the online mode to support their students with learning.
For future, while Kanavu is exploring training young adults to be part-time teachers in the after-school learning centres, they selected 7 teachers from the cluster to be 'Lead Teachers' who are being trained and coached to be instructional leads for their school as well as the cluster. They form the second line of leadership and hence sustain the impact in the school. This will lead to a stronger school leadership team that focuses on holistic education at a school level.
Barefoot Edu Foundation (erstwhile Lantern Edusports Foundation) in Mumbai, Maharashtra (Cohort'20)
Barefoot Edu Foundation observed that the children from under-resourced communities face adversities that have long term cognition, psychological, emotional and physical effects. The community schools, both government as well as the affordable private ones are unable to build their basic numeracy and literacy skills as these schools lack a system to support and monitor the teaching and learning processes.
It also identified the following three root causes that cause high drop-out rates, post-school unemployability, vicious cycles of poverty, crime and substance abuse:
the leadership and management skills of the school leader,
the curriculum or the content, which student is taught, and
the teaching method of the teacher.
In response to these challenges, Barefoot Edu initiated a Whole School Transformation Program, which is a holistic, multi-staged approach to enable under-resourced schools to deliver quality education. The program aims to promote improved educational outcomes by working with multiple stakeholders in the school system such as school leaders, teachers, students, and the community.
Under the Whole School Transformation Program, the organization engages with under-resourced schools for a period of three years to drive whole school improvement, leadership development, teachers' professional development, community engagement, and improved student outcomes. There are continuous direct interventions in the following domains:
Effective School Leadership Practices
Effective Pedagogical Practices:
Learners' Progress, Attainment, and Development
A Culture that Promotes Learning.
Productive Community Participation
To ensure monitoring, a well-trained experienced Education consultant (School Transformation Catalyst) is placed in the intervention school who work with the School Leaders, Management and the teachers very closely in framing and designing policies and programs for school transformation.
Another recent approach adopted by the organization to ensure sustainable leadership skills in the teachers is the "Changemakers Fellowship" programme. It is a 3-year fellowship programme for the teachers, wherein the teachers attend training sessions on different pedagogical methods, and are assigned separate projects to work on with maximum autonomy and decision-making powers. This helps instill leadership capacities in the teachers and in turn, make the school initiatives and projects sustainable.
As the fellows become accountable for their projects, with the assistance of the organization, they implement those projects, analyze the progress and areas of improvement to subsequently work on those aspects. Barefoot has observed that it is a gradual process, but once teachers feel responsible for the initiatives and get used to making decisions, it has the potential of leaving lasting impact.
Thus, with the success of these interventions, Barefoot Edu plans to scale their programmes in more schools and expand in more states.
Samait Shala in Ahmedabad, Gujarat (Cohort'19)
Samait Shala primarily works with budget private schools in Ahmedabad and believes in the power and need for in-service capacity building. In its early years, whenever they entered schools in the middle of the year to help them with their training needs, they saw the difficulties faced by teachers in the classrooms. After multiple conversations with teachers and Headmasters, the change leaders of Samait Shala realized the need for a well-designed yearly training program for schools. Therefore, they devised and launched the 'Back to School' programme and Yearly Training Programme.
In Back to school, Samait Shala provides an in-service teacher training program for their partner school teachers. It is generally conducted at the start of the Academic Year (in June) to ensure teachers are well aware, equipped and energized to start the year strong. The training happens under three themes:
Education Landscape: Teachers learn about different talks regarding education in India and abroad. They learn and experience national education policies. Teachers come closer to understand the different innovations that are happening in education at a systemic level.
Pedagogy: Teachers learn about pedagogy which they can directly utilise in classrooms.
Content: Teachers practice some basic English and Math content skills and build their understanding with practice.
Their second initiative, i.e. Yearly Training Program, is created to ensure teacher readiness towards effective and inclusive teacher learning practice by the end of the year three in the intervention program. The yearly ongoing training program is conducted every fortnight as part of the learning circles in school. The cycles are as depicted in the chart below:
Having struggled to measure the impact of the training program, Samait Shala has started working with the KirkPatrick Evaluation parameters, which are reaction, learning behaviour and results, and have been able to successfully conduct 20 training sessions with these parameters.
In future, the possibility of extensive online training programs is becoming more and more palpable. Leveraging the opportunity, Samait Shala plans to take the 'Back to School Program' to schools other than the partner schools by widening its reach. Such a move will ensure that every school is able to update the pedagogy in their schools and bring better enriching experiences for the children.
Vidhya Vidhai Foundation in Chennai, Tamil Nadu (Cohort'18)
An overwhelming majority of the teachers coming to affordable private schools in Chennai and Madurai regions lacked formal education to become a teacher. Moreover, there is no awareness or knowledge of the different teaching techniques inside the classroom, let alone using them. Their motivation for their profession is merely to earn for their living. Having identified these problem areas, Vidhya Vidhai worked towards devising sustainable interventions to ensure continuity in teacher training activities.
There are multiple programmes undertaken by Vidhya Vidhai to build teacher capacities in different ways. Their key project, Kartka Kasadara ('learning without flaw'), is a 20-day long competition where the teachers have an experiential learning and hands-on training.
The objective of the competition is to provide experiential learning using different pedagogies that could be used to teach various learning practices and also discover skills for time management, classroom management, leadership, and teacher initiatives. The Kartka Kasadara aims to provide a space for all teachers to come together and learn together from each other.
Of course the idea was initially met with reluctance from the teachers, but over the course of 20 days, the participating teachers had forgotten that it was a competition as they all had bonded together and shared resources with each other. Besides pedagogical skills, the teachers also gained confidence to express their idea and accept feedback positively.
Apart from Kartka Kasadara, Vidhya Vidhai also conducts an annual Classroom Management workshop for every new teacher joining the programme. Due to COVID-19, the teachers are now being supported and trained to effectively use digital technology to conduct their classes. The Vidhya Vidhai team is currently reworking on their session plans and approaches to build the capacity of the school teachers, while also creating a platform for teachers to plan lessons effectively.
Vowels of the People Association (VOPA) in Pune, Maharashtra (Cohort'21)
In the geography where VOPA operates, i.e. Marathwada district of Maharashtra, there is a proportional education development deficit of 37-39%. Educational deficit is a shortfall between the educational reality that children experience around the world and what governments have promised and committed to through human rights treaties. In many instances, one of the causes of the deficit can be attributed to the lack of adequate training of the teachers.
Seeing the gaps in education, VOPA was motivated to focus on Teacher training and total school transformation of marginalized schools and educational institutes in Marathwada region.
With the object of empowering these schools, VOPA had launched their School Transformation Project two years ago, which is a capacity building programme for the teachers that includes 'Teaching Skill, educational content, systems and practices.' The following are the ways that VOPA helps in building teacher capacities:
Develop educational content

Lesson plans
Manual to build lesson plans
Collection of games and activities to be incorporated in the pedagogy

Build and improve teaching skills.
Set up systems and processes on leave management, monthly reporting, timetable building, appraisal and record keeping.
Assist school management team.
The impact of these teacher training sessions is not just limited to school transformation, but they also spill over into the personal lives of the teacher, and consequently the community. In one instance, a training session on 'Multiple Intelligence' helped a teacher named Savita realise the importance of not forcing a child into a profession. Where her family is determined to make her daughter a doctor, after this session, she found the courage to stand up for her daughter and her freedom to be whoever she wants to be.
Similarly, these interventions have been helping the teachers, the students and the community become more progressive and understanding; one session at a time.
Currently, VOPA is working on an online platform which would provide free online learning resources to all school children in Maharashtra. (ssc.vopa.in). Similarly, they are also building an online lesson planning and sharing platform for teachers, and eventually plan to work with the district government to implement these online lesson planning platform and related learning content for students.
With these unique interventions adopted by our change leaders to empower and upskill school teachers, it is certain that these efforts will further upskill the students coming to schools from all walks of life.
These unique interventions adopted by our change leaders are empowering and upskilling our country's school teachers. "Great teachers have the ability to change many lives for the better," – and so, it's important to focus on building teacher capacities for the benefit of the future generations.
There is no denying that the teachers are indeed the backbone of the education ecosystem, and the society at large. They act as role models to students and offer not just education, but guidance and training to lead a successful life. It is, thus, of utmost importance to cater to their needs to devise such methods for their skilling and training.
– Written by Ms. Deboleena Dutta, Team EduMentum