From Reading to Learning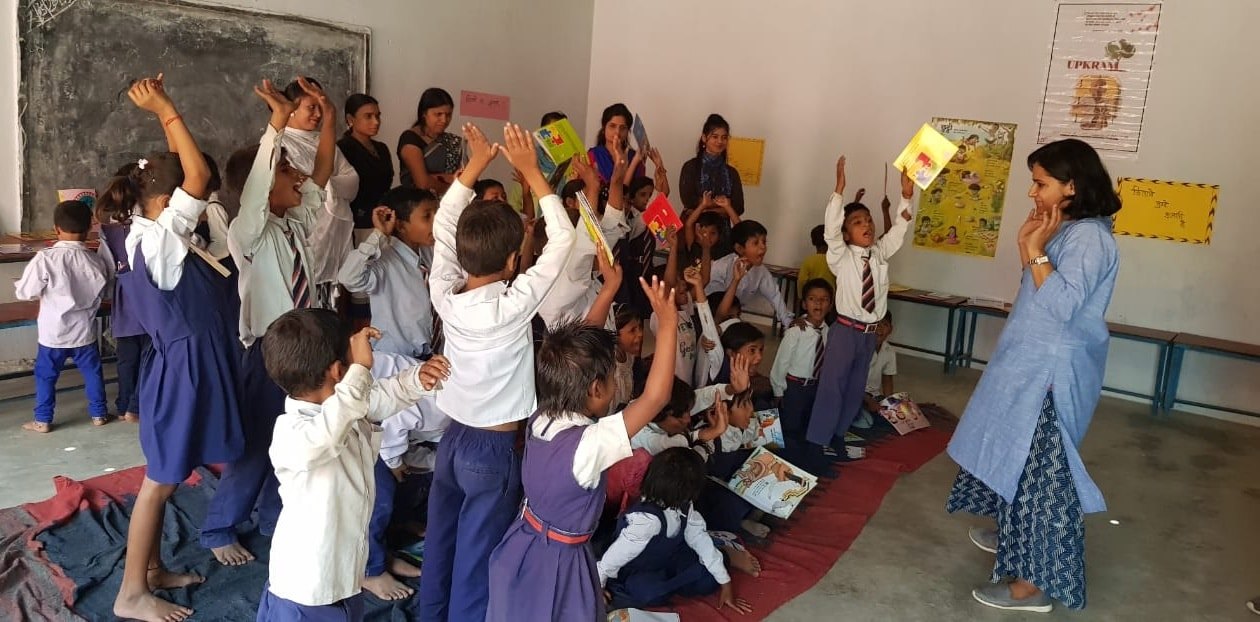 For those who have access to children's books, adults asking them to focus on their academic progress often takes priority. Are children's novels and storybooks a hindrance to their academic growth? Kiran Tiwari answers this question and discusses the rumors surrounding Children's Literature in the country.

In the last 50 years, the association between education and livelihood has become a popular narrative. The education frameworks of today are preparing students to be part of an 'educated' system. Parents believe that the quality of their education determines the quality of their future jobs.

Our entire education system is built based on how many marks you score on your tests/exams. There is an underlying belief that the more marks you get, the higher you can climb on the education ladder. Unfortunately, today that is how our education is promoted across schools, and a select few are designing tools with very minimal consultation of those involved in the system itself.

These tools are converted into academic books and are forced upon the students. The schools also accept it without questioning it. In this case, the scope of child literature is minimum. The school concentrates on making the students improve on their academic growth.

The issues of quality education and healthcare are still relevant in India. Parents continue to encourage their children towards higher education with the hope of better livelihood options.

The focus of most students is to score good marks, which will lead them to good universities, eventually helping them secure high paying jobs. This prevalent mindset stops parents from encouraging their children to engage in extracurricular, Literature, sports, etc. And so, many students are deprived of exposure to children's Literature.

Author and philosopher Udyan Bajpayi says, "Academic books in itself is a structure. What is inside it is a topic of debate, and sometimes it continues to be. But if you don't get into it, then also its a topic of worry for its structure".

Is Child literature a hindrance to completing an academic course?

Often there is a perspective related to skills or reading books. It is assumed that investing time in it will lead to the neglect of more important things. However, it has been proved many times that reading and being involved in hobbies bring a fine detailing in one's life.

Reading brings a lot of different perspectives to understand things in life and leads to the overall development of the child.

In one of the pieces of Professor Shailja Menon, she writes that through Child Literature, it becomes easier to teach students basic language and literacy skills. Students become aware of the existing issues, worlds, and stories which they could never even imagine.

Children's Literature helps in making children understand a topic/chapter.

Child literature leads to the development of curiosity among children. Through this, they also get to know about important information regarding the topic at hand. For instance, in the primary classes, children are not taught science or social science, but through stories and poems, they are made aware of what these concepts are. This understanding helps them in further classes to delve deeper into these subjects.

Skills utilization

While reading, the students go through various scenarios and stories. They sometimes get stuck in their questions while navigating through the books but also soon figure out the answers to them. They use their understanding of bad and good, they learn.

This kind of development helps them in academics as well.

Students in higher classes face difficulty in reading and writing, and one of the main reasons is the unavailability of literature books for them. They are limited to academic books only and repeatedly read the same text.

In the initial phases, students are taught letters through a thin book, which in itself is a complicated and lengthy process. Instead, if we give them stories to read, picture scenarios, then they will learn with more enthusiasm.

Better coordination between teachers and students

The exposure of children's books can even lead to improved relationships between students and teachers. It also gives new topics of discussion in the classroom. These discussions can be related to the issues in their academic course. Such healthy talks lead to a democratic class, which also impacts the learning culture of an entire school.

In 1939, Mr. Mahatma Gandhi famously said: "If the academic books are considered to be the only base of learning, then education and teacher's opinion will lose its value." In this, Gandhiji also talks about linking other activities with education. One of them can be how children's literature books are not a hindrance to their academic growth.

The original piece was written in Hindi and published in Aaj Tak. Please find its link below:
https://aajtak.intoday.in/story/children-learn-more-from-childrens-literature-rather-than-text-books-1-1160865.html?fbclid=IwAR3i9jV6mCzW3pq01FmIWKPyXj-UwojNXqd_8jh5K8rmsuUDaQ7sjFVEPFc