A People's movement for Education Equity
Energize need-based school improvement programs in 100 districts, impacting 40 million children by 2025, collectively!
A Movement for Decentralised Action to Solve India's Education Challenge.
Need-based programs at the district level
Decentralised action enabled by Micro-Improvements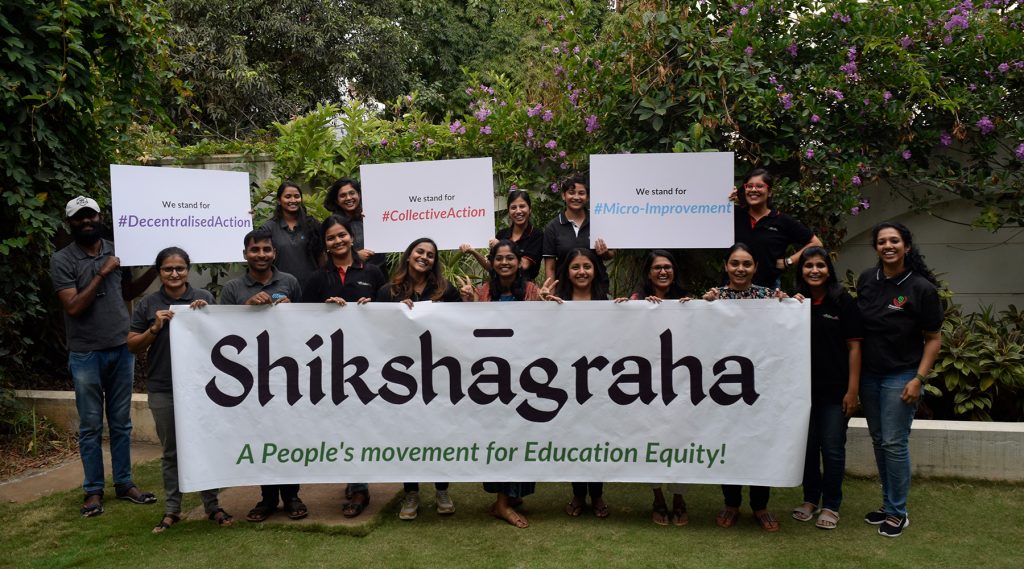 The school improvement challenges in India are as plenty and diverse as the education ecosystem's scale and diversity. However, change programs and solutions are either being designed in silos, with top-down solutions restricting the agency of the stakeholders on the ground or are being designed and implemented at a very small scale for the solution to be relevant at scale.
As a result, the school system performance suffers, affecting teachers, students, and learning outcomes all at once. There is an urgent need for school improvement solutions to be designed by the stakeholders who implement them because one size [solution] does not fit all [contexts].
Shikshāgraha enables the education leaders, District Institutes of Education and Training (DIET) & Civil Society Organisations to lead the co-creation efforts for the need-based programs. With the agency to design programs, educators will own the change and commit to enhancing student outcomes. And eventually, ensure education equity in India! 
Shikshāgraha aims to catalyse a collective action to solve India's education challenge by: 
Catalyzing decentralised action for program design and implementation 

Facilitating collaboration between 'district education department' and local NGOs

Leveraging the approach of Micro-Learning and Micro-Improvements

Utilizing national digital infrastructure DIKSHA
Overarching Principles of
Shikshāgraha
Aligned to NIPUN indicators

Committing to Common Minimum Program unified by the Micro-improvement approach
Building alignment among government institutions in districts: DM, DEO and DIET

Orchestrating Samaaj-Sarkar-Bazaar  partnerships
Creating a Community of Practice
Catalysing cross learning 

Building an Indigenous Body of Knowledge (BoK)
Shikshāgraha is a people's movement. It makes education equity a priority for everyone, leverages diverse perspectives and expertise, and mobilises resources to achieve the shared vision.
100 Days 100 Districts Campaign
Over the last four months, the Shikshāgraha team has been actively engaged in understanding the aspirations and perspectives of districts and Civil Society Organizations (CSOs) regarding systemic education transformation and collective action. This journey has involved connecting with more than 50 NGOs across the country and conducting 100 district visits within 100 days to engage with stakeholders and organisations on the ground. Each interaction during this learning phase of Shikshāgraha's journey has deepened our belief in the importance of involving stakeholders who implement school improvement solutions. These district visits have been conducted across the states of Karnataka, Bihar, and Odisha, with the primary objective of embarking on a learning journey to comprehend the context, needs, and challenges faced by the districts.